For anyone who has experienced slow data transfer rates with USB flash drives, knowing the information in this blog will surely come in useful if it is ever encounter again.
In the digital age we live in, moving important digital information has become a necessity and the use of temporary storage devices has increased dramatically. Furthermore, since the Cloud cannot be accessed without an internet connection, USB flash drives are still routinely used.
USB flash drives include flash memory with an integrated Universal Serial Bus interface and are capable of holding large numbers of bytes of information. To perform at their best, they need to be properly optimized to unleash maximum efficiency so they can operate with as much speed as possible.
With that said, here are three factors that effect efficiency and speed in USB flash drives:
Type and Age

– As they get older, they tend to lose swiftness. The operating components become weaker, perhaps covered in dust, and less pristine than when they were brand new. Also, the capabilities of USB flash drives depend on their type (USB 3.0 or USB 3.1).

Type and Size of Files

– Small files like Mp3, Word Documents and lower resolution images usually transfer faster than larger files like videos and high resolution images.

USB Port Version

– With a newer port version, like USB Port 3.1, data will transfer faster.
How to improve speed in slow USB flash drives
For those unaware of how to improve speed in slow USB Flash Drives, here is an easy way to boost performance:
Plug in the USB flash drive
Open the Start Menu/Screen (Windows key)
Type Computer and press Enter
Locate the USB flash drive and right-click it to select Properties
Click the Hardware tab
Highlight the USB flash drive
Click the Properties button
Under the General tab, click Change Settings
Click the Policies tab
Select Better performance and click OK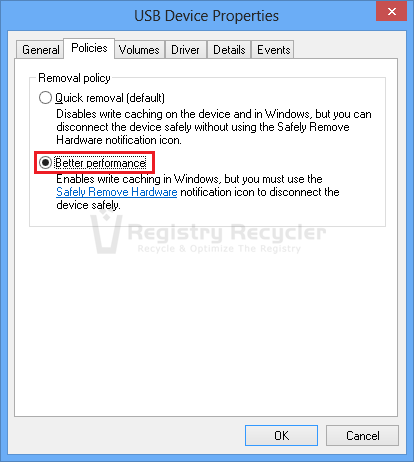 Following these steps will activate write caching in Windows, and it will noticeably improve the rate at which data transfers.
IMPORTANT NOTE: After following these steps, be sure to Eject USB Mass Storage before unplugging the USB flash drive.
10 cool ways to use USB flash drives
Even with the invention of the Cloud, USB flash drives are still very useful. To learn more about both and how they compliment each other, read USB Flash Drives vs. The Cloud.
Here are the 10 coolest ways to use USB flash drives (click the link for more detailed information):
Store, view and share photos
Print photos at a photo shop
Use a favorite internet browner or app
Sync files between the Cloud and a flash drive
Backup files from a computer
Play Mp3 music in a vehicle
Secretly store encrypted files
Rescue a computer from a virus
Show off music on a play list
Present as gifts
MediaFast makes the best branded USB flash drives
At MediaFast, quality and performance are high priorities for us and customer satisfaction is our number one priority. As a result, we only use brand new, Grade A components to make all of our marketing products.
To learn more about our USB flash drives or other marketing products, contact us today.